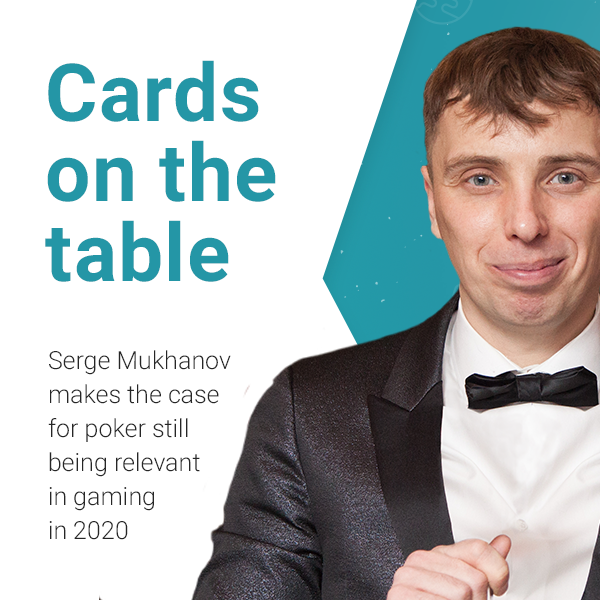 Cards on the table
Serge Mukhanov, CEO of Connective Games, says operators must also pack their game portfolios with tables games such as poker if they are to achieve mass market appeal.
Online gambling operators have been mostly focused on building out their online casino and slot game portfolios for some time now. The best online casinos offer more than 2,000 slots games from all the main providers, with the number constantly rising as studios launch more and more titles. But online gambling operators can no longer just focus on one product – in this case slots – and must offer all verticals if they are to enjoy mass market appeal. 
For this reason, it is vital that they also look to add table games to their game offerings and in particular hugely popular variants such as blackjack, roulette and poker. Not only do table games have a large, highly valuable player-based in their own right, but they also provide tremendous cross-sell potential between casino and sports betting. For online casino operators that have focused mostly on slots, there is a huge opportunity to attract new player demographics through table games. These players will generate additional revenues when playing blackjack, roulette, poker and so on, but they can also be pushed over to casino games and sports betting, too.
The typical online poker player:
Poker in particular is a great table game when it comes to engaging a valuable player demographic that can be tremendously loyal so long as they receive a good product and experience. The typical poker player is usually younger than the typical slots player with an age range between twenty and thirty years old. They are often intellectual and enjoy the skill element of the game. This in turn makes them loyal to the poker room as they improve their skill over time and develop their strategy. The social element of poker also sees players return to the same poker room over time as they look to compete with friends and fellow players they get to know over months and even years.
The most popular poker formats:
Online gambling operators looking to strengthen their poker offering with additional titles need to think about the markets they are in and the type of player they are seeking. The most common – and popular – poker variants are staples such as Texas Hold'em and Omaha, particularly fast versions like boost, windfalls and so on. These variants work really well on mobile, allowing players to step away from their desktops and laptops and continue playing while on the move – again increasing play time and loyalty. While these formats appeal to more casual players, variants such as 6+ Hold'em and 5 Card Omaha are favoured by more skilled players who enjoy the added complexity of the game. In addition to these well-known formats, operators should also add localised variants to their table game offerings. I'm talking about variants like Pineapple Open-Face Chinese Poker. By offering localised poker formats, operators can be sure to appeal to players in each individual market they target while also including the games that have widespread appeal.
Huge cross-sell potential:
As I mentioned earlier, online gambling operators can no longer be single vertical – they must offer all the major game types in order to appeal to the largest audience. Most poker aficionados like to mix and match their poker play with slots, sports betting, lottery and scratch cards. For example, a huge number will spin a few slots in between tournaments. The same applies to online casino players wishing to take a break from playing slots and try their hand at more skill-based table games such as blackjack and poker. Without a substantial table game offering, online gambling operators will not be able to engage table game and poker players in the first place. This means they will miss out on the additional revenues from these players, and also from the cross-sell revenues of pushing them to casino and casino players to table games. The focus has very much been on slots for many months now, but to really achieve mainstream appeal in markets around the world operators need to put their cards on the table.  Simply put, they need to offer more table games.
Source: https://www.gamblinginsider.com/friday/tgif/tgif-2020-4.pdf?new2