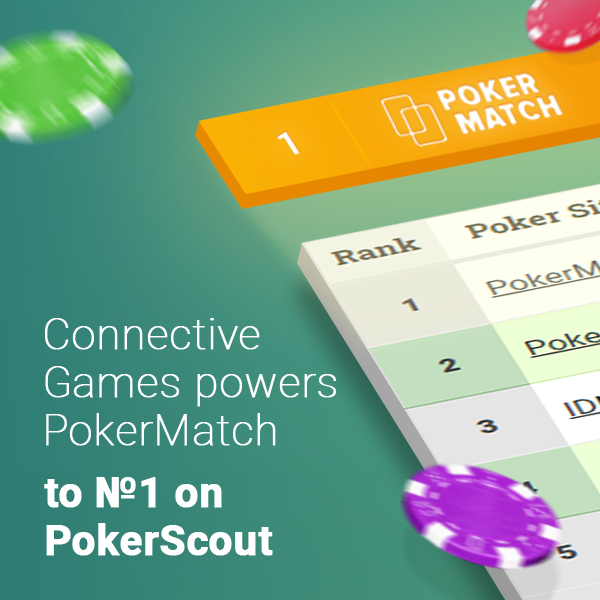 Connective Games powers PokerMatch to #1 on PokerScout
New game format aimed at recreational players see operator's traffic surge and it take top spot on prestigious poker ranking
Malta: 30 March 2021 – Connective Games, the award-winning online poker platform provider, has powered operator partner PokerMatch to the top spot on PokerScout's prestigious traffic rankings. The surge in traffic and liquidity, which now stands at №1 has come following the launch of an entirely new game format, Boost, supported by a major marketing campaign.
Connective Games worked closely with PokerMatch to design and develop Boost Tables, which are aimed at more casual players who prefer to play with smaller budgets and stakes. Boost is based on the classic Zoom Tables pioneered by PokerStars but offers a slow mode option and an all-in format. Players can bet as little as $0.00036 per hand. In addition, Boost Tables come hooked up to a jackpot which seeds at $7,225 and is triggered when the bad beat jackpot occurs when losing a hand to a stronger combination. Only 1% of the jackpot amount is drawn down but this still means that players can win up to $100 from a $0.00036 bet, which is a sizeable win for a low-income recreational player. The jackpot has been designed to trigger every 30 minutes to 60 minutes on average and is active 24 hours a day, seven days a week. The launch of Boost Tables was supported by an innovative marketing campaign – Chat Miners – which leveraged the PokerMatch Telegram chat which has 7,000 members.
Members share more than 10,000 messages per day and are mostly amateur or recreational players that have small budgets and play with low stakes. The "Miners" element of the campaign came from the increase in interest about Bitcoin mining, a topic regularly discussed in the PokerMatch Telegram chat. The launch of Boost Tables and the Chat Miners marketing campaign has proved to be hugely popular with PokerMatch rising from twelve in the PokerScount rankings to number one.
Serge Mukhanov, CEO of Connective Games, said: "We are delighted to see Boost Tables perfoming so well for our partner, PokerMatch. We worked very closely together on this game format and went to great lengths to ensure it would appeal to a very specific player demographic. We have certainly achieved this, and PokerMatch is now the number one poker site in the world when it comes to traffic and liquidity – an incredible achievement."