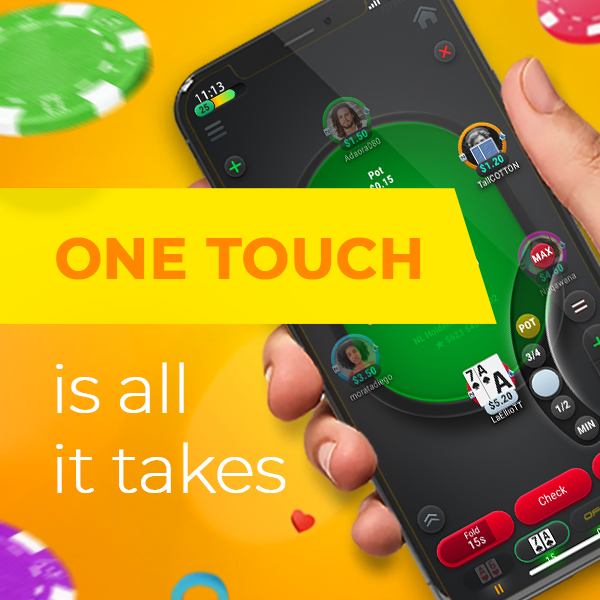 One touch is all it takes
The only way to unlock mobile poker growth is to make the game easier to play on smartphones
To drive growth in online poker, operators must target the highly lucrative millennial demographic in order to add more players to their pools and boost revenues. These players are fully connected to their mobile devices, which they use to access all kinds of entertainment options from social networks to video games.
But current mobile poker products are not up to the same standard as those offered by other entertainment providers such as Netflix and Snapchat.
This has to change, and by making poker clients mobile friendly operators will be able to offer these younger, more casual players, poker games that meet their expectations.
The global online casino industry has been riding a huge wave of growth for several years now and the driving force behind this has undoubtedly been mobile. Smartphones and to a lesser extent tablets have allowed players to remain engaged with their favourite online casino brands and games at all times. Today, it is not uncommon for mobile to account for more than 50%—and sometimes upwards of 80%—of an operator's revenues.
In comparison, developers and operators have struggled to transition online poker play from desktop to mobile. Of course, there are several reasons for this.
Poker is a complex game
Slots and poker are two totally different types of casino game. One is a game of chance that is very easy to play, the other is a game of skill that takes years to master. In order to play online poker, players must be given access to a huge range of actions and functions whereas for a slot game, the main thing is being able to hit "Spin."
The scale and scope of standard poker games—let alone the more interesting and exciting variants—makes it very difficult to condense onto the screen real estate of a mobile device.
To overcome this, developers and operators have launched different game formats better suited to fast-paced mobile play, including Sit&Gos, but until now they have remained constrained by device limitations.
Poker is a social game
Poker is inherently a social game and players like to be able to communicate with their rivals while they go head to head.
Again, this is difficult to offer via a mobile device given that in most cases players will be on the move—travelling to work, in the queue at the store, etc., when playing.
Some developers have built social functionality into mobile poker games, and with success, but the experience is simply not as good as that offered on desktop.
Players like to multi-table
Another factor that has hampered the growth poker on mobile is that the majority of hardcore players like to multi-table and this is notoriously difficult to offer on mobile.
This is an area Connective Games has pioneered for some time now, and our mobile poker products allow operators to offer multi-tabling to their players. We have only been able to achieve this by developing in HTML5 and WebGL. But as innovative as this may be, we realised that more needed to be done to ensure that players receive a superior mobile poker experience.
Portrait play is key
The key to delivering this is in allowing players to access games in portrait mode. 
This is important when they are playing while on the move or undertaking another activity, such as walking to the shops or waiting in line at the bank. In these situations, players want to be able to hold their phone in one hand and play whatever game it is using just their thumb. This is an area that slots developers have yet to properly crack—most mobile casino games still have to be played in landscape.
At Connective Games, we believe offering portrait play will be the catalyst for growth on mobile, which is why we recently launched this functionality to our operator partners.
For the first time, players can access poker games easily while on the move—commuting to work, waiting in line at a café—and play the game using only their thumb or a single finger. To do this, we had to ensure that all of the key game controls are grouped around the area of the thumb allowing the player to make decisions without excessive swiping and scrolling.
We also had to divide all the table information into three categories—essential, general and non-important.
We then display the information in different colors, sizes, at certain moments of time and using various animations to reflect priority.
This, we believe, will significantly increase where and when players—particularly younger players—can access games and this in turn will boost participation and drive revenues.
One touch really is all it takes.